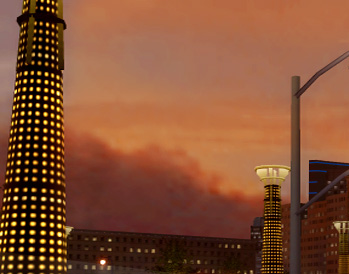 Atlanta is a city in Georgia, USA, it's featured in Midnight Club 3: DUB Edition. Atlanta is locked by default, though the player can unlock it by defeating Vanessa II. Located deep in the dirty south, Atlanta is the city where some of the most outrageous customizations are coming out of, and how much you spend on your hood is just as important as how much you spend under it. The bright lights of Hotlanta make this the perfect place to be seen at all hours. Decked out luxury SUVs and sedans are at the forefront of Atlanta's scene, but don't forget that reputation is ultimately built on wins over rims.
Storyline
Edit
___________________________________________________________________________________
SPOILER WARNING!!! Plot and/or ending details are in the text which follows.
___________________________________________________________________________________
Midnight Club 3: DUB Edition
The player arrives in a rather nice looking garage (than in San Diego) in Atlanta called 'Apone Team Racing'. The owner, Apone, introduces himself, but is distracted by his most prized procession: A 64 Chevrolet Impala (his obsession over the car was so big that his wife left him because of the car) that he customized and is constantly tinkering with. After that, the player exits, and a few racers challenge him. A tournament is also going on, and the prize is a 'DUB'D-Out' Cadillac Escalade EXT. After defeating some racers and winning in the Atlanta DUB Tournament, the player ends up back at Apone Team Racing, and Apone tells him that a street bike club called the Original Riders has challenged him. After that, the player races more individual drivers, and upon defeating them, Apone informs the player that an SUV club called the Big Playas has challenged him. After completing tournaments and defeating all racers, Apone is back with more news: there are some serious races down in Detroit next week and he thinks it's a good idea for the player to check it out.
Ad blocker interference detected!
Wikia is a free-to-use site that makes money from advertising. We have a modified experience for viewers using ad blockers

Wikia is not accessible if you've made further modifications. Remove the custom ad blocker rule(s) and the page will load as expected.