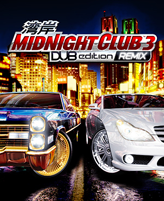 The Midnight Club is back and bigger than ever. Tear through the living city sprawls of Detroit, San Diego, Atlanta, and now Tokyo at breakneck speeds. Personalize the huge assortments of all new additional rides with the latest rims, kits and upgrades hot off the street. Over 20 vehicles have been added to the original Midnight Club 3 car collection, spanning all the car classes from the original release, and including all-new models from Lamborghini, Cadillac, Dodge, Infiniti, Pagani, and more. — Midnight Club 3: DUB Edition Official Site.
Midnight Club 3: DUB Edition REMIX is available for $19,99 MSRP for both PlayStation®2 and Xbox® + re-released version in PLAYSTATION®Network for $9.99 (8 GB). Everything that made the original release a PlayStation®2 Computer Entertaiment System Greatest Hit and an Xbox® Platinum Hit, plus an entirely new additional city, over 20 new vehicles, an expanded soundtrack, and more...
   *Tokyo Challenge Mode

   *New Vehicles

   *New Music + Original

   *New Maps for Online Features

   *New Body Kits for Each New Car

Ad blocker interference detected!
Wikia is a free-to-use site that makes money from advertising. We have a modified experience for viewers using ad blockers

Wikia is not accessible if you've made further modifications. Remove the custom ad blocker rule(s) and the page will load as expected.