Midnight Club 3: DUB Edition
Edit
The main character in Midnight Club 3: DUB Edition is unseen, though Oscar, when player leaves the garage, may ask him 'Aren't you too young to drive a car like that?'. This can be a hint that player is young.
Midnight Club Los Angeles
Edit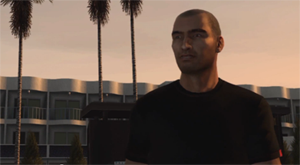 Player in Midnight Club Los Angeles is a guy from East Coast, who takes major role in the game. He came in Los Angeles to compete in races. In the intro of Midnight Club Los Angeles, he talking on the phone with Booke. Booke telling player to meet at a fast-food restaurant named Carney's Express Limited. He gives the protagonist the choice of three cars, one to pick, in the beginning of the game: a 1998 Nissan 240SX, 1983 Volkswagen Golf GTI, or 1988 Volkswagen Scirocco. All of these 3 cars have damaged parts on them.